Online Craft Stores 
aftcra All aftcra sellers are able to set up a branded shop and list products for free. Once listed, all products live on aftcra.com for six months. After six months the products expire. Expired products can be relisted for another six months for free.  aftcra only charges a fee once a sale is made, which is 7% of the total sale price. This fee does not include any financial transaction fees from PayPal : https://www.aftcra.com
Amazon Handmade at Amazon is a new store on Amazon.com for invited artisans to sell their unique, handcrafted goods to our hundreds of millions of customers worldwide. Our 15% referral fee includes payment processing, marketing, discounted shipping, fraud protection and we've waived our monthly fee!  https://services.amazon.com/handmade/handmade.htm
Artfire offers several plans to choose from depending on number of items sold : https://www.artfire.com/ext/sell/join_now
CafePress.com Design & Sell Merchandise. Have your own customized online shop. Sell your designs on 250+ products. Earn a sales commission on all products sold in your shop. The more you sell, the more you earn with the Shop Performance Bonus. No set-up or up-front costs. Millions of online shops including top brands such as Snoopy, E! Online, and more! Have your own Store Worldwide Audience : http://www.cafepress.com/cp/info/sell/
DaWanda Europe's largest retailer.  Has a nice Display widget of your products for a website. Commission is 10%. No other fees : http://en.dawanda.com/
eBay Here's what you get for your 10% Commission fee (unless you start a eBay store with considerable savings): A worldwide community of more than 160 million shoppers. Shipping labels you can print at home, with big discounts on postage. Seller protection and customer support to help you sell your stuff : http://www.ebay.com/sl/sell#fees
Folksy Modern British Craft. Basic : Fees £0.15 + VAT per item listed, 6% + VAT sales commission, Suitable for Sellers who have a low amount of stock or don't list frequently. Folksy Plus £45 Per Year (inc. VAT), BEST VALUE, No listing fees, 6% + VAT sales commission,  Terms of use Suitable for Sellers who list frequently or stock a large number of items : https://folksy.com/selling
HANDMADE ARTIST Your paid subscription gives you the ability to setup a personal shop page and sell as many of your handmade products as you want. There are no listing fees and no commission fees. Just click the register link on the top right of the site and then seller. You will then see the available subscription plans to choose from. Pick either the $5.00 a month plan or save $10.00 a year by picking the $50.00 a year annual plan :  https://handmadeartists.com
MISI "make it, sell it" USA and UK versions. The items listed on MyMisi must fulfill and meet at least one of the following requirements:  A) Handmade and/or created by yourself. B) A craft supply item. A) A vintage item of at least 20 years old. What are the fees for selling on MyMisi? The cost to list is 20c. The listing is published for one year or until the item is sold out. When you sell an item, the transaction fee is 3% of the sale price :  https://www.mymisi.com
Supermarket Simple fees. You pay only if you sell. 15% commission includes payment processing and marketing. Benefit from SEO for your products : http://www.supermarkethq.com/pages/sell-your-work
Under The Rainbow 20 free craft posts and can purchase 10 more listings for $2.00, or Member Discounts & Benefits – Enjoy our many member discounts and benefits to help your crafting business grow – Craft Classified Ads, Gazebo Store Fronts, product discounts, and much more…Crafter Fellowship, Business Assistance, and even Craft Project Assistance – Under The Rainbow's Company Yahoo group for networking with other members and company announcements – membership is required to maintain mall membership. We'll even help you with your business outside of the craft mall. All this and more – for an affordable, one time membership fee of only $10!  http://www.undertherainbow.us/online-craft-mall/index.php
Zibbet has monthly fee from $4.00 -$16.00 with varied options for each of three choices. Worldwide :  https://www.zibbet.com/sell
Free Online Stores 
glcmall.com Open a GLC Arts and Crafts Store List up to 12 items completely Free of any charges :  http://www.glccraftmall.com/index.php?route=information/information&information_id=11
Free Craft Fair Sell Your Crafts Online :  http://freecraftfair.com/craft-business-resources/sell-your-crafts/sell-your-crafts-online/
madeitmyself.com : http://www.madeitmyself.com
shophandmade Open a 100% Free Store : http://www.shophandmade.com/
Related Crafts Content
AllCrafts.net – Free Crafts Network 20+ craft categories and thousands of free projects : http://www.allcrafts.net
American Crafts Council : http://craftcouncil.org/
Art Directory : http://www.artsandcraftstile.com
Artsy Shark 250+ Places Artists Can Sell Online : http://www.artsyshark.com/125-places-to-sell/
Aussie Crafts Large Australian Based Directory : http://www.aussiecrafts.com.au/
Craftgate Handmade Directory Visit the Craftgate Handmade Directory : http://www.craftgate.com/
CraftGossip is an independent craft website and provides information about everything new and craft worthy. We are a network of blogs, each of which is managed independently by an editor. Each sub-blog concentrates on a particular craft topic or idea and we are always looking to start new sub-blogs and editors to manage them.  If you love discovering new craft things and telling everyone about them, then you are invited to write to us about your idea. Previous editing experience is not necessary, and we will provide you the tools required to manage your sub-blog. We will provide the marketing, sales and other infrastructure management, so that you can discover new things, and write about them. You are of course paid for your efforts via a revenue sharing agreement and the exact details are available on request by sending us an email :  http://craftgossip.com/write-for-us/
Craftsitedirectoiry.com You will find instructional and tutorial sites on the various crafting subjects. Free craft projects and free patterns can be found in nearly every category. You can purchase craft supplies that you are unable to find locally and all of your other craft supply and equipment needs without leaving your home. Individual craft shops and art galleries with secure online ordering are also abundant here. You will find a huge variety of talented crafters and artists. Many of them even offer custom work and personalized gifts. Craft and gift shop owners can shop for finished wholesale crafts : http://www.craftsitedirectory.com/
Create TV Arts & Crafts http://www.createtv.com
Creative Live Free Online Craft Classes : https://www.creativelive.com/craft
FaveCrafts.com Free Craft Ideas and Projects – Christmas Crafts, Free Knitting Patterns, Free Crochet Patterns and More from http://www.favecrafts.com/
Free Craft Projects and Resources
Free… new and unusual craft projects, original custom graphics, how-to instructions, patterns and templates, craft tips and suggestions.
Kick Starter Crafts : https://www.kickstarter.com/discover/categories/crafts
National Craft Shows Directory USA Listings Crafts Shows and Fairs Directory http://www.nationalcraftshows.com/
Pinterest Do it Yourself Crafts : https://www.pinterest.com/categories/diy_crafts/
Small Business Trends You Made It Yourself: Now What? 29 Places to Sell Your Handmade Creations :  http://smallbiztrends.com/2011/10/29-places-sell-handmade-creations.html
VISIT



The Oldest And Largest Craft Directory On The Web
The Crafts Fair Online
The oldest craft directory on the web, offering links to individual artists, group shows and malls, craft supplies, ideas and instruction, real world show guides, free event announcement pages and discussion boards. Helping to guide traffic to independent craft sites for 16 years. Add your site, free!  
http://www.craftsfaironline.com
The Indian Arts and Crafts Board (IACB) promotes the economic development of American Indians and Alaska Natives of federally recognized Tribes through the expansion of the Indian arts and crafts market :  https://www.iacb.doi.gov/
ukcrafts-directory.co.uk UK A Human-reviewed Arts and Crafts Directory : http://www.ukcrafts-directory.co.uk/
Zazzle offers you 3 free and easy ways to make money online : http://www.zazzle.com/
Summary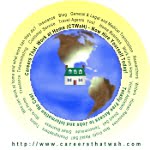 Service Type
Crafts Home Based
Area
Worldwide, Varies
Description
Crafts related employment from home of a variety of experience levels from Beginner to Expert. Many top Companies to choose from. Global job market possibilities with some listings.
URL