On This page you will find Global Technology Work at Home Jobs and related content. Many will let you work Global Technology jobs remotely from home. You can have virtually no commute time as you stay at home. Global Technology Home office work is rapidly booming and I have listed many of the top companies and resources for you to gain employment. If you do not find a job opportunity through this page, be sure to check some other categories that are related, or the larger companies, as they hire in many different departments and categories and I have to avoid double listing a lot of them for SEO and space reasons.
Do not pay to apply for work to anyone. There are plenty of opportunities to work from home in Global Technology without paying any initial hiring fee. You may though have to pay for a background check though and some require even a credit check. I have plenty of other areas on the website you can use to find Global Technology work from anywhere type, work from home jobs. Try some of the following pages and enter Global Technology in a search like the Work From Home Job Boards page listed as a subpage of the Job Boards main page. The search engines there are specialized in finding Work at Home jobs or remote work. The Job Boards page is also good for searches with keywords in your favorite search engine. I also have a page of top Freelance sites that you can use for you searching.
10up We're always looking for talented strategists, project managers, engineers, designers, systems administrators, and advertising specialists :  https://10up.com/careers/
[A] If you have what it takes to be an [A]gent, and want to be part of a team that stays on the edge of all things content technology, [A] is for you : http://simplea.com/About/Careers
Active Network We are looking for the best and brightest to build, market and sell technology designed to help organizations get more people more active : http://www.activenetwork.com/careers
Adobe is changing the world through digital experiences. Our creative, marketing and document solutions empower everyone — from emerging artists to global brands — to bring digital creations to life and deliver them to the right person at the right moment for the best result. Remote location specific locations scroll down in locations menu : https://adobe.wd5.myworkdayjobs.com/external_experienced
ADP is a global organization with offices and clients around the world. Explore our available career opportunities now :  http://www.adp.com/careers.aspx
API Global Resources offers you opportunities to work from home, make your own schedule, and provide services for some of the most well known Fortune 500 companies. We offer tremendous opportunities with recognized companies across numerous industries, including telecom, travel & hospitality, high technology, cruise line, roadside assistance association, tax software and retail :  http://www.apigr.com
Authentic Form & Function is an innovative digital studio for startups, businesses, and creative agencies. We're a tight group of digital experts living at the intersection of progressive design and smart technology :  http://authenticff.com/team
Auth0 We're looking for people who care deeply about quality, team work and want to build software that people love : https://auth0.com/jobs
Axelerant Our Scrum managed teams are wildly contributing to and working with Drupal, WordPress, Ruby on Rails, and many other incredible open source technologies for projects and services :  https://axelerant.com/careers/
Baremetrics We had a vision. Ordinary, busy, business folks making sense of their Stripe data. Over the past year we've been working hard to make that vision become a reality : https://baremetrics.com/jobs#all
Basho We value diversity, cross-functional teams and passionate, achievement- focused individuals who are eager to participate in pushing the boundaries of distributed database technology : http://basho.com/careers/
BD is a medical technology company that serves healthcare institutions, life science researchers, clinical laboratories, industry and the general public. BD manufactures and sells a broad range of medical supplies, devices, laboratory equipment and diagnostic products. BD is headquartered in the United States and has offices in more than 50 countries worldwide :  http://www.bd.com/aboutbd/
Become is a global recruitment agency specialising in recruitment for the creative, digital and media industries :  http://becomerecruitment.com/au/about
Bluespark is a distributed company. That's just a fancy way of saying that you can work from anywhere. The only requirement is that you be available for our standard working hours of 9 AM – 12 PM Central U.S. Time (time zone calculator). Most people work from home—wherever that may be—occasionally traveling to client sites, conferences, or trainings. The majority of our clients are based in the U.S. : http://www.bluespark.com/join-bluespark-team
bmc are you motivated and inspired by innovation? Are you ready to join a company that puts technology at the forefront of business transformation? If so, you're the kind of person we're looking for. Being an Innovation Catalyst requires a unique ability to identify, initiate and implement meaningful change :  http://www.bmc.com/careers/careers.html
Buffer We're a small team of people working to make people's lives easier on social media. Buffer provides tools to help individuals, businesses and publishers build an audience online and engage with followers as effectively as possible : https://buffer.com/journey
CISCO a lot of technonlogy and then other job sector positions. Work from home seems to produce the best results : Click Here
Citrix partners with Microsoft to deliver the next generation of Azure RemoteApp : https://www.citrix.com
clevertech We're always looking for smart, driven, entrepreneurial developers to join our team :  https://hire.clevertech.biz
COLLAGE.COM We're a Technology Company That Makes Custom Products Easy for Everyone :  http://jobs.collage.com
Crowdsourced Testing is looking for the best freelance software testers worldwide! https://crowdsourcedtesting.com/en/freelance-software-testing-jobs
"DataStax is on the forefront of creating technology that allows you to manage data in ways that enable us to live our lives in completely brand new paradigms that we could not even imagine 5-10 years ago."–Billy Bosworth, CEO : http://www.datastax.com/company/careers
Dell empowers countries, communities, customers and people everywhere to use technology to realize their dreams. Customers trust us to deliver technology solutions that help them do and achieve more, whether they're at home, work, school or anywhere in their world : Click Here
Doist seeking Back-End Web Developer, Devops Engineer, Front-End Web Developer, Fulltime Bilingual Support Staff Member all are work from anywhere positions : https://doist.io/jobs/#we-are-hiring
Elastic is on a mission to make real-time data exploration easy and availability to anyone. To achieve that, we spend our days engineering the world's most advanced open source search and analytics engine, which is rapidly becoming the most popular solution in this space : https://www.elastic.co/about/careers
Emsisoft doesn't have a company office, all our team members are free to work from wherever they want. We at Emsisoft don't know country- or cultural borders, we're all part of a world wide distributed team that creates the best possible protection software for all people on earth : https://www.emsisoft.com/en/company/jobs/
Four Kitchens is a leading digital strategy firm with strong roots in the open-source and free-culture communities. We build websites and apps to engage audiences on virtually any device because we believe knowledge should be set free. We hire developers, designers, and strategists with a desire to make a difference :  https://www.fourkitchens.com/careers/
First Beat Media The majority of our staff telecommutes from home which allows for a very flexible work schedule and optimum work/life balance : http://jobs.firstbeatmedia.com
Genuitec, we are always looking for talented team members. With core teams working telecommuting jobs in the US, India, Mexico, and other employees in as diverse locations from Africa to Europe, we thrive in a full-time telecommuting environment. Genuitec continues to grow by offering superior products for the modern enterprise Java developer at value-driven prices. Whether coding for the desktop, cloud, web or mobile devices, Genuitec has a solution : http://www.genuitec.com/company/careers/
Ghost Work with Ghost. We're a worldwide group of mischievous developers. Passionate about enabling the future of the freedom of speech : https://ghost.org/careers/
GitHub we build the tools that make collaborating and writing software easier for everyone. We've built a company we truly love working for, and we think you will too : https://github.com/about/jobs
Groove Help us build the best customer support software on the planet :  https://www.groovehq.com/about#hiring
HCL Technologies has an extensive global network of delivery centers to provide seamless IT services to customers worldwide :  http://www.hcltech.com/careers/job-listing
Heroku You've got skills. We've got jobs. Help us change the way app development is done :  https://www.heroku.com/careers#openings
HIRETHEWORLD.COM  #1 in Logo, Web & Graphic Design. Sign up as a designer :  https://www.hiretheworld.com
HP Hewlett-Packard is a leading global technology services provider delivering business solutions to its clients http://www8.hp.com/us/en/jobs/index.html?jumpid=va_jtfz1bkq3m
IBM :  http://www.ibm.com/planetwide/select/selector.html
Incsub interested in joining the leading commercial WordPress company on the web : http://incsub.com/careers/
INTRIDEA Strategists, designers, developers & creators: this is who we are : http://www.intridea.com/about
InVison Join our Team and Help Change the way Designers Create and Craft things for Web and Mobile Platforms :  http://www.invisionapp.com/company#jobs
Konsus : https://konsus.interviewed.com
Lullabot Our team is made up of remarkable people from all over the world. We have experts in strategy, design, and development as well as people passionate about education, business, finance, and running the world's top rated design and development company : https://www.lullabot.com/who-we-are
MaritzCX  Are you looking for a rewarding career that puts you at the forefront of the technology or customer experience (CX) industry? Join the biggest customer experience company with 18 offices worldwide :  https://www.maritzcx.com/about/careers/#s=1
MCFTech we are innovators. We develop Applications to help businesses run more effectively. But, we're more than that. We are a team of technology, business process, and integration experts who love solving complex business problems with the use of industry-leading technology : https://www.mcftech.com/careers/
MELEWI We're a kickass design studio with a global perspective : http://melewi.net
Mokriya is on a mission to build great software that can change the world : http://mokriya.com/careers
Mozilla We're a global pack of do-gooders, rabble-rousers and passionate defenders of the Web.
Want to join in? https://careers.mozilla.org/en-US/
NODESOURCE If you're passionate about building products for the Node ecosystem by contributing to engineering, project or event management, marketing, design, or community outreach then we should talk :  https://nodesource.com/careers
OnTheGoSystems We are hiring. Are you a WordPress fan? We are looking for people who are eager to:
work with other open minded WordPress enthusiasts, in an international team,  influence the development of famous WordPress plugins,  develop their skills through our comprehensive training program : https://www.onthegosystems.com/jobs/
Oracle Engineering and related software jobs. Search with home based or remote as a keyword :  https://www.oracle.com/corporate/careers/index.html
OriginalEight We're always looking for talented developers and creative thinkers :  https://www.origineight.net/careers
Parse.ly is a venture-backed startup providing analytics to the web's best publishers :  http://www.parsely.com/jobs/
Percona discover what it means to have a career with some of the smartest people in the open source world, solving challenging data performance problems for a global set of customers : https://www.percona.com/about-us/careers/percona-lifestyle
Receiptful We want to conquer the (eCommerce) world, one email receipt at a time.
It is our mission to build tools that help entrepreneurs engage with their customers in a way that is mutually beneficial and increases the lifetime value of that relationship : https://receiptful.com/about/
Rimini Street is the leading independent provider of enterprise software support services. Our next-gen support model is shaking up an industry, and it feels good to be part of a company on the leading edge :  https://www.riministreet.com
Scrapinghub We're a globally distributed team of over 100 scrapinghubbers who are passionate about scraping, web crawling, and data science. Open source is in our DNA, as is being 100% remote. Ever imagined working on sponsored open source projects while traveling year-round? At Scrapinghub, you can – and some do :  https://scrapinghub.com/jobs/
Security Roots We serve the Information Security industry, one of the most exciting industries out there. And we work with the latest technologies in the Ruby world.  We've been in business for 5 years, always trying to grow a slowly as possible to make sure that our customers are front and center of every decision we make. Today we serve over 200+ InfoSec teams in 31 different countries across the world :  http://securityroots.com/careers.html
Severalnines provides automation and management software for database clusters : http://severalnines.com/careers
SitePen has one of the most talented and dedicated teams of software engineers anywhere. If you're self-motivated, know how to throw out a bad pun, get a kick out of Internet memes, and have a passion for Web development and open-source software, you'll fit right in : https://www.sitepen.com/about/jobs.html
Succuri Website security company. Our team is growing and we have many open positions. Note that all positions are full-time and remote (you can work from anywhere in the World :  https://sucuri.net/company/employment/
SoftwareMill We created software for the banking, telecommunications and logistic industries. And we love working with startups, too! https://softwaremill.com/
Sonatype Join us and help accelerate software innovation : https://www.sonatype.com/careers-sonatype
SpiderOak is always looking for interesting and dynamic people to join our team. As a virtual organization, you can be located anywhere in the world and work in whatever you find most comfortable. To be a good fit for our culture, you have to be really great at your craft, an overall awesome person, and an advocate for online privacy :  https://spideroak.com/about/careers
Stripe Help us build the universal payments infrastructure of the internet : https://stripe.com/jobs
Taska Outsourced Technology Careers : http://www.taksatech.com/careers/
TeamGantt is one of the fastest growing project management applications right now. We are taking a step back to rewrite our handwritten monolith to a web client/api architecture with react. We're excited to restructure the foundation of our application so we can much more quickly grow the product to accommodate our growing customer base : https://www.teamgantt.com/jobs/
Teleport team creates software : https://teleport.org/jobs/
Tenable Network Security a cybersecurity Company : http://www.tenable.com
TERADATA Data, IT, Marketing jobs in Europe, Middle East, Africa : http://www.teradatacareers.com/emea/
Texas Instruments semiconductor innovations help 90,000 customers unlock the possibilities of the world as it could be – smarter, safer, greener, healthier and more fun : http://careers.ti.com/locations/
Universal Mind specializes in helping our customers solve problems related to digital business. We're inventors and connectors. Technologists, designers and strategists, all working together to create digital experiences that make people's lives simpler : http://www.universalmind.com/careers/
Virtustream a Dell Technologies Business, is the enterprise-class cloud service and software provider trusted by enterprises worldwide to migrate and run their mission-critical applications in the cloud :  http://www.virtustream.com/about-us/corporate-profile
X-Team work with our client partners to help them code the future. X-Team only works with innovative companies with unique, specialized challenges. We also provide funding to support proactive X-Teamers who want to contribute to open source communities, projects and events : https://x-team.com/join/
YARDI We started out as a small software startup focused on quality software and customer satisfaction. Now, moving into our fourth decade, Yardi is a large software corporation with offices worldwide — and a still-unwavering focus on quality software and customer satisfaction : http://www.yardi.com/about-us/
YNAB is driven by a small (but growing!), passionate team. We are building the best budgeting software out there :  https://www.youneedabudget.com/jobs
zapier We're just some humans who think computers should do more work. Join us! https://zapier.com/about/
Summary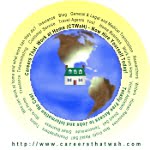 Service Type
Global Technology Jobs
Area
Worldwide, Varied
Description
Wide variety of Technologies to work from home or from anywhere in the world with software, web related content or Internet related technologies to name a few.
URL