On This page you will find Worldwide Work at Home Jobs and related content. Many will let you work Worldwide jobs remotely from home. You can have virtually no commute time as you stay at home. Worldwide Home office work is rapidly booming and I have listed many of the top companies and resources for you to gain employment. If you do not find a job opportunity through this page, be sure to check some other categories that are related, or the larger companies, as they hire in many different departments and categories and I have to avoid double listing a lot of them for SEO and space reasons.
Do not pay to apply for work to anyone. There are plenty of opportunities to work from home in Worldwide without paying any initial hiring fee. You may though have to pay for a background check though and some require even a credit check. I have plenty of other areas on the website you can use to find Worldwide work from anywhere type, work from home jobs. Try some of the following pages and enter Worldwide in a search like the Work From Home Job Boards page listed as a subpage of the Job Boards main page. The search engines there are specialized in finding Work at Home jobs or remote work. The Job Boards page is also good for searches with keywords in your favorite search engine. I also have a page of top Freelance sites that you can use for you searching.
I have other good places to search for remote anywhere type jobs such as the companies listed on the Global Jobs & Global Jobs Pg. 2 and then Worldwide. Many of them employ in the USA too or are USA based. Good luck in your job search and be sure to check out the job categories of you skill area listed on other parts of this site as the whole site is designed to give you the opportunity to work from you own home and many employ persons from remote or anywhere, virtual locations.
Worldwide Translators, Linguist, Transcription and Transcribers
CastingWords Workshop Freelancers: Transcribe, edit, and complete other short jobs online, at your own pace. Work as much or as little as you want, when you want. They do the transcribing, editing, QA and more. They can work from anywhere they have a computer and Internet access, and on their own time. No obligations :  https://workshop.castingwords.com
CrowdSource is the industry leader in a multi-billion dollar market, providing clients with on-demand access to a skilled and scalable workforce. We manage crowd-based talent to deliver content, moderation and transcription solutions to enterprise clients worldwide : http://www.crowdsource.com/about-us/
Humantic Review calls. Get paid. Listen to a recorded phone call, answer a simple question with the click of a button, and earn real money with Humanatic. Rather than use computers to transcribe and decipher recorded phone calls, we combine human intellect with computer generated algorithms to provide our clients with the most detailed information possible. Our reviewers work from home listening to the recorded calls and provide us with the answers we need to create a meaningful analysis of our clients calls, and in return, provide them with specific reports and statistics to help them make the changes necessary to improve their business :  https://www.humanatic.com
PACIFIC TRANSCRIPTION Do I need to live in Australia to work as a typing contractor for Pacific Transcription?No. Whilst the majority of our typists are based in Australia, we also hire typists based in the following locations: New Zealand, United Kingdom, South Africa, Japan, Singapore, Hong Kong. We will also consider typists from other countries on a case by case basis. Please note that native English language proficiency is required ; http://www.pacifictranscription.com.au/careers-reside.php
pactera We offer independent, work-from-home jobs that can be performed with total time flexibility. All positions have an important linguistic and/or cultural component, though the exact requirements and tasks depend on the actual role. You can find the details under each job description :  http://crowdsourcing.pactera.com/Home/Index
Pro Active Translations uses only the best interpreters and translators to provide exceptional services to our clients. If you are a highly reliable, accurate and efficient language professional, we'd like to hear from you :  http://www.proactivetranslations.com/careers.html
ShortTask is based on the idea that there are still many online jobs that cannot be fully replaced by technology. Whether it's researching detailed information, transcribing audio or video recordings, identifying objects in photographs or videos, or creating written content, some jobs are just better done by humans :  http://www.shorttask.com
TextMaster is a rapidly growing tech company specialised in online professional translation. With over 5,000 customers in 110 countries worldwide. Join our community and find out why thousands of freelancers love working with TextMaster. With interesting projects and a flexible environment, it's a great way to make some extra money or really earn a living :  https://eu.textmaster.com/freelance-writer-translator-jobs
Transcription HUB invites transcribers and editors to join their remote freelance transcription team :  http://www.transcriptionhub.com/transcriber-registration
TranslationCentral We are looking for interpreters and translators with excellent knowledge and professional experience in any language : http://www.translationcentral.com/job_application_form.php
TransPerfect Translation, Website Localization, Multicultural Marketing, Recruting & Staffing, Multimedia Services, Interpretation, Call Center Support, Software Localization & Testing, Training, E-Learning, Legal Support Service :  http://www.transperfect.com/
Trusted Translations accepts aplications worldwide : http://www.trustedtranslations.net/
Quicktate transcribes voicemail messages, memos, letters, legal files, medical files, recordings of phone calls, conference calls and other audio files. Quicktate also audits, summarizes, evaluates and analyzes audio recordings and phone conversations. Some audio files, like voicemail messages, may average just 2-3 minutes in length, while other recordings may be significantly longer, perhaps several hours. IDictate transcribes all types of files, except for voicemail messages : http://typists.quicktate.com/transcribers/signup
WordExpress is presently hiring professional associates in several fields — anywhere in the world! http://www.wordexpress.net/freelance-positions/
WorldLingo is looking for good freelance translators to join our team. We have two categories of translator: generalist or specialist. We will only use you for translation into your native tongue and for projects that are targeted for the country in which you reside : http://www.worldlingo.com/en/company/translator_jobs.html
Worldwide Virtual Assistant
VMG We hire a wide range of people (from freshers to senior experts) in a wide range of industries. We offer full time, part time and virtual assignments. Earn good incomes with flexible working hours :  http://www.vmgbpo.com/join-our-team.html
Worldwide Related Links
BussinesForSale.com Lists business for sale. Can search with keyword like Home Business or Work From Home after selecting your location : http://www.businessesforsale.com/search?formName=searchForm&keywords=work+from+home+&newSearch=Start+Search
Franchise Direct : http://www.franchisedirect.com/
InnoCentive Do something good – join the InnoCentive Solver community Real life – Real problems – Real Impact – This is where you come in. Becoming a Solver puts you among an amazingly talented and creative group of independent thinkers that will help to change the world for the better, and touch the lives of millions. As a Solver, you can apply your expertise, stretch your intellectual and creative boundaries, and win cash prizes from $5,000 to $1,000,000 for solving problems in a variety of domains that run the gamut from corporate to humanitarian : https://www.innocentive.com/ar/registration/
LiveWorkAnywhere Practical tips and advice for digital nomads :  http://liveworkanywhere.com
sociosite Telework – Telecommuting : http://www.sociosite.net/topics/telework.php
Workaway.info is a site set up to promote fair exchange between budget travellers, language learners or culture seekers and families, individuals or organizations who are looking for help with a range of varied and interesting activities : https://www.workaway.info/
Summary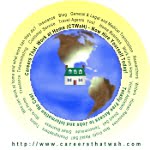 Service Type
Worldwide Jobs
Area
Worldwide, Varied
Description
Worldwide Related employment from home of a variety of experience levels from Beginner to Expert. Many top Companies to choose from.
URL