The following sites hire for Work at Home or related work such as Telecommute, Work From Home , Freelancing and other related locations from home. Most of these are the top Company's for hiring employees, many of them offering regional or worldwide hiring locations. Most offer a variety of job types besides just the area this page title indicate.
Many of the various job sites throughout this site also offer Paid Training to Work at Home. Here I am posting the ones that I know offer it, at the time of working on this page. Many on the CTWaH Site main pages offer free or paid training.
Advanis in Canada is a Market and Policy Research company. Looking for Home Based Telephone Research Interviewers. We offer fully paid training and a set wage. Toronto, Edmonton, Waterloo, Montreal :  http://www.advanis.ca/
Amazon Full time and part time opportunities are available in Arizona, Kentucky, Texas, West Virginia, Delaware, Minnesota, Florida, Georgia, Kansas, North Carolina, Tennessee, Wisconsin, and Virginia for our seasonal customer service associate position. 3-4 weeks of paid training, Seasonal and referral bonus opportunities, Part-time and full-time positions available : http://www.amazonfulfillmentcareers.com/opportunities/customer-service/work-home-csa/
A Place for Mom – Eldercare Advisors to work with families : http://www.aplaceformom.com
Asurion hiring Home-Based Customer Care Representatives (CCRs) to take inbound customer service and support calls : https://www.asurion.com/about/careers/
Bibo Global Opportunity Teach English from home 
Brighten Communications gives you the opportunity to work whatever hours you want from 8 a.m. east coast time through 5 p.m. west coast time, Monday through Friday. A business-to-business telemarketing company specializing in the outsourcing of lead generation. The clients you will be making calls on behalf of represent professional organizations in industries such as finance, brokerage, and high-tech. Brighten is looking for callers with previous telemarketing and cold calling experience : http://brightenemployment.com/CallerInfo.aspx
Convergys Set up you virtual office and train at home : http://careers.convergys.com
CRUISE.COM Cruise Sales Agents (Home-Based) – Requires at least two years of recent cruise sales work experience, preferably in a call center environment selling all of the major cruise lines. Language fluency in English/Spanish is required for some openings. Purpose: To sell cruise vacations, insurance, and other product options to potential customers through inbound/outbound telephone calls/e-mail leads. Paid Training Online From Home for 4 weeks. JOB OPPORTUNITIES (HOME-BASED – MULTI STATE EXCEPT CA AND HA) US and Canada : http://www.cruise.com/cruise-information/employment.asp?skin=001&pin=&phone=888-333-3116
Customer Loyalty Concepts are currently seeking virtual Sales Consultants for a fast paced and high volume phone sales environment. All our sales consultants work from home using their own equipment. Once on the team you will be responsible for outbound prospecting : http://www.customloyal.com
DMVelite If you have experience in consultative sales and are tech savvy, this position is for you! You need to be able to understand how a business works and help businesses make well-informed decisions about their business development needs. This is a contract position and does not have benefits, but you can write off some home office expenses. If you want paid training and a challenging but fun team environment, we want you! You will get paid a base plus bonuses/commissions : http://www.dvmelite.com/careers/
Expert Business Development Remote USA, Canada and UK.  Business Development Agent Job Type: Part Time, Full Time . A candidate for this position must enjoy working on the phone and must be able to handle some rejection. Training is provided with a lot of support, however, you must have a strong sales or an appointment setting background, preferably B2B. It is necessary to be experienced and comfortable working with high level executives : http://www.expertbizdev.com/jobs
EGS offers people from all walks of life the opportunity of a great job and career advancement. Have a career in customer service supporting some of the world's best known companies, Paid Training. Search with keyword Work From Home : http://www.egscorp.com/
Enterprise Holdings offers paid train for Customer Service Representives : http://go.enterpriseholdings.com/opportunities/customer-service/
GenSales We are committed to offering support and resources to make working from home a successful experience. This includes Training, Dedicated Staff Support, and Coaching that's only a phone call away. You will be paid for the time you work, not just the time on a call : http://gensales.com/join-our-team/
Hilton Reservations & Customer Care with the help of an expertly trained Work-From-Home team. Innovative and interactive training to achieve success in your role : http://hiltonworldwide.com
InfoCision – work-at-home Communicators specialize in volunteer recruitment, Christian fundraising, sales and customer care calls. In order to qualify for the Work at Home program you must be a resident of Ohio, West Virginia or Pennsylvania and live outside of one of our call center areas : http://www.infocision.com
Kelly Services has a special department just for athome work. Whether you want to work 10 or 40 hours per week, our flexible schedules will fit your lifestyle. We're committed to providing our employees with the resources necessary to work at home successfully, including paid training and a dedicated support staff that's only a phone call away : http://www.kellyservices.us/US/Careers/KellyConnect/Kelly-At-Home/
Legal Work Place At Home Online Training must be Paid : http://www.legalworkplace.com/at-home-online-trainng-must-be-paid-pla.aspx
Maritz Mystery Shopping : https://www.maritzmysteryshopping.com/
NEW is the leading provider of extended service plans, buyer protection programs and product support for retailers, financial service companies and wireless carriers : http://www.newathomejobs.com/careers.html
NR NexRep has a variety of Work at Home Agent job categories including outbound Sales, Inbound Sales,  Customer Support, Relationship / Dating Sales Assistant, Outbound Appointment Setting – Sears Vacations, Virtual Receptionist, Grubhub Customer Care, Music Streaming Customer Service, Beauty Consultant, Insurance Lead Generation, Customer Care. Join hundreds of other independent contractor sales and tech support professionals at NexRep who are providing excellent customer service on behalf of our clients through inbound calls, outbound calls, or email :  http://www.nexrep.com/
Sitel Work@Home Solutions™ gives associates the stability of working for a leader in the global call center industry. Associates will be required to service inbound calls. Calls may involve billing inquiries, account or product inquiries, product or service orders, installation scheduling or technical product trouble shooting. Our clients come from various industries such as financial services, telecommunications, retail, hospitality and health care. Paid professional training attended from the comfort of your home : http://www.sitel.com/careers/work-home/#sthash.MB9VfinN.dpuf
Sutherland Global services is a multinational company providing outsourcing customer contact services for their customers. Employee flexibility is key to them and they do state flexible schedules are available.  Most positions are part time and are sales, customer service, and tech support. They also have back office associate positions from home which are data entry or transaction processing work, as well as managerial positions. US, Canada, UK, Egypt, India, Mexico, Bulgaria, Nicaragua, Philippines, United Arab Emirates. Paid Training : http://www.sutherlandglobal.com/
Starwood Hotels Work @Home Program gives Associates the opportunity to work in the most comfortable environment possible – home! Perks include. The ability to connect to a network of colleagues working at home around the world through chat and online learning sessions. 4 Weeks of Training :  http://www.starwoodhotels.com/corporate/careers/paths/description.html?category=920060&language=en_US
SYKES Home US and Canada Your online learning experience is a vital part of the overall employee tenure with SYKES Home. Like the job itself, classroom training is a 100% virtual learning experience, taking place through our virtual classroom environments.  The duration of training varies by program, but most programs involve 3 to 6 weeks of full-time (40 hours per week) training. You are paid for training, and 100% attendance is required, daily :  http://www.sykes.com
SimAssistant, virtual assistants handle calls for a variety of products and services. From customer service calls to technical troubleshooting and order processing, every agent receives web based training to handle these incoming calls on behalf of some of the nations premier companies in the wireless, retail, Internet, restaurant, and other industries. All new assistants must pass a background check and be able to complete a week of online training. (Training is paid). Positions can vary some main job catergories in general are Customer Service Agents, Data Entry Keyers are two of them : http://simassistants.bravehost.com/index.html
Sitel Work@Home Solutions™ employs full-time, part-time, and flex associates across the US, Germany and Canada using both fully virtual and hub and spoke model. Calls may involve billing inquiries, account or product inquiries, product or service orders, installation scheduling or technical product trouble shooting. Clients come from various industries such as financial services, telecommunications, retail, hospitality, and health care. The Sitel Work@Home Solutions™ team is vital to our company's service offerings. As a member of this team of dedicated professionals, you will build a career working for a global leader and enjoy the benefits of working from home. – See more at: http://www.sitel.com/careers/work-home/workhome-agent-job-description/#sthash.vmbEE7b9.dpuf
TeleReach as of 8/15/2015 We are not hiring in the following states: CA, CT, DE, FL, HI, IL, MA, MD, MI, MT, ND, NH, NV, PA, or WA . There is an Orientation period of two weeks. TeleReach Corporate hires high caliber, seasoned professionals who have a background in outbound business to business cold calling. We do not provide beginner level sales training or beginner level computer skills training. The Orientation period covers processes, specific client account orientation and web based CRM technology : http://www.telereachjobs.com/5-0.cfm
TeleTech@Home provides you with specific product and client training through a certification program to prepare you for the on-the-job requirements of your assigned client project. All training is paid, mandatory and is conducted both online and over the phone US, Canada, UK, Spain, and other countries. Will be expected to work a minimum of 20 hours per week. Depending on your availability and the client's needs, specific work schedules can range from 20-30 hours per week : http://www.hirepoint.com/why-join-teletech/work-at-home-en-US/
Transcom North America delivers. 75 global service centers in 29 countries. Sales, customer service or credit management environments and used to operating across multiple communications channels. You will complete 100% of your training from your own home. If you are from Canada or the USA then please use our North American service, the home page is : http://www.transcom.com
Transworld is the right choice. No need to climb a corporate ladder or jump through academic hoops. In fact, no experience is needed – we'll teach you to succeed. Benefit from the security of working in a virtually recession-proof industry that is not slowed down by market conditions or other issues that affect most companies. Collections or Sales,  Account Representative work from home : http://www.transworldsystems.com
U Haul if you are a team player, hard-working, enthusiastic, and have a good attitude, then a career as a Center Sales & Reservations representative is for you. As a remote (work from home) team member you will receive incoming calls from customers calling specific U-Haul moving centers across the US and Canada or from customer call U-Hauls toll free 1-800-go-uhaul number : http://jobs.uhaul.com/job_detail.aspx?aval_job_id=78768=
VoiceLog Our training program does require you to dial-in to a conference line so unless you have unlimited long distance, there will be long distance charges associated with your call. After your training is completed, long distance telephone service is not required to take our customers calls. A Live Operator is an independent contractor for VoiceLog that works from home and takes live inbound calls that are recorded to verify a customer's choice to order a service. There is no selling involved in being a VoiceLog operator :http://www.bsgclearing.com/
VT Audit – Auditors Needed If you have experience in processing payroll, or you have worked with bills of lading in shipping and receiving,  auditors creating workers compensation and / or general liability audits for Property & Casualty Insurance clients nationwide. You will be trained in-house or via web cast : http://www.vtaudit.com
West Business Services –  account management, working with Fortune 500 organizations and their customers, Paid Training : http://www.westbusinessservices.jobs
WORLD TRAVEL HOLDINGS Travel Professional, Customer Care Representative or Luxury Travel Sales work at home positions, Paid Training :  http://www.worldtravelholdings.com/careers,work-home#.VdeSDPlVhBd
Paid Training Onsite to then Work From Home
Cass Information Systems, Inc., the nation's leader in freight, utility, and telecom payment services, has immediate openings for Data Entry Operators to WORK FROM HOME, 30 hours per week.  Individuals will have to pick up work at our facility on a daily basis.This is an excellent opportunity for those individuals wishing to work but have obligations that keep them in the home.  Individuals must be willing to work on site to train : http://www.cassinfo.com/job_opportunities.html
O'Currance is a call center offering remote agent positions as agents receiving inbound sales calls.  Their website claims  job training and product knowledge training, and quality products to promote.  Training is done on-site and work begins in the office and then you can move to a remote agent status http://www.istayhome.com/index.php
Free Training to Work at Home
DionData Solutions is a legitimate Data Management Service Bureau. We provide all training and programs at NO cost to you with no requested hidden fees of any kind. DionData Solutions is currently seeking part time home contracted vendors : http://www.diondatasolutions.net/opportunities.htm
Great VitualWorks At Great VirtualWorks we contract with Independent Businesses to provide services at a minimum of 10-15 hours per week and including support on the weekends. Learn more about Great VirtualWorks and how Great VirtualWorks is Virtualizing the Experience with No Limits : http://join.greatvirtualworks.com/
LiveOps agents take calls for a wide variety of different programs and companies and the calls vary for each opportunity. We encourage you to review the Agent Opportunities pages to learn more about the different call types available, and then determine which one is the best match for your skill set. LiveOps does not compensate independent agents for the certification and product knowledge they attain. However, the more programs you certify to provide services for, the more opportunities you will have to generate revenue for your business :  http://join.liveops.com/
NTI@Home places Americans with disabilities in work-at-home jobs. Most of these positions are in the Customer Service field, but other work from home positions have included medical transcription, tech support and quality assurance. NTI@Home provides free virtual classes through NTI University to prepare candidates for our work-at-home jobs : http://nticentral.org/
Summary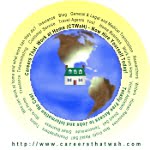 Service Type
Paid Training From Home
Area
Worldwide, Varied
Description
Paid Training From Home will get you ready for the job without having to commute. Also some free traing and on-site then work at home training opportunities.
URL